The curriculum is divided into curriculum areas to ensure that all aspects of the curriculum are appropriately covered, sequential, fun and engaging, based on latest guidance and thinking and are suitably challenging and aspirational for all our learners, including the oldest and most able​,

Much of our teaching and learning happens in a cross-curricular way but there is still plenty of focus on specific skill development in particular areas where this is necessary and relevant. This more holistic approach to teaching and learning is essential for the majority of our learners, especially our emerging and early learners but helps all our learners to build connections between their knowledge, skills and understanding​.

Our curriculum endeavours to create learning experiences which are rooted in purpose, meaning and the real world and prepares our learners to be not only fully recognised and valued members of the communities in which they live but active and 'fully paid-up' contributors to wider society in whatever way they can​.
EYFS, Primary and Secondary Phases
In line with the statutory framework for this stage, pupils in the Early Years and Foundation Stage access the 3 Prime Curriculum Areas: Personal, Social and Emotional Development, Communication and Language and Physical Development and the 4 Specific Curriculum Areas: Understanding the World, Expressive Arts and Design, Literacy and Mathematics through continuous provision and some adult-led sessions.
All other pupils have access to the same curriculum areas – see below. Curriculum areas can be taught as discrete areas but much of the learning is cross-curricular. This is especially the case for our emerging learners and early learners who maybe working at a 'non-subject specific' level. Pupils will often also be combining their own personalised curriculums at the same time, e.g. carrying out numeracy lesson whilst in their stander.
The core skills that sit over the curriculum areas are often the focus of pupils' personalised learning goals but whether this is the case or not, these life skills are encouraged and developed continuously in all areas of school life.
The curriculum weighting for each class varies slightly depending on the age and stage of the child.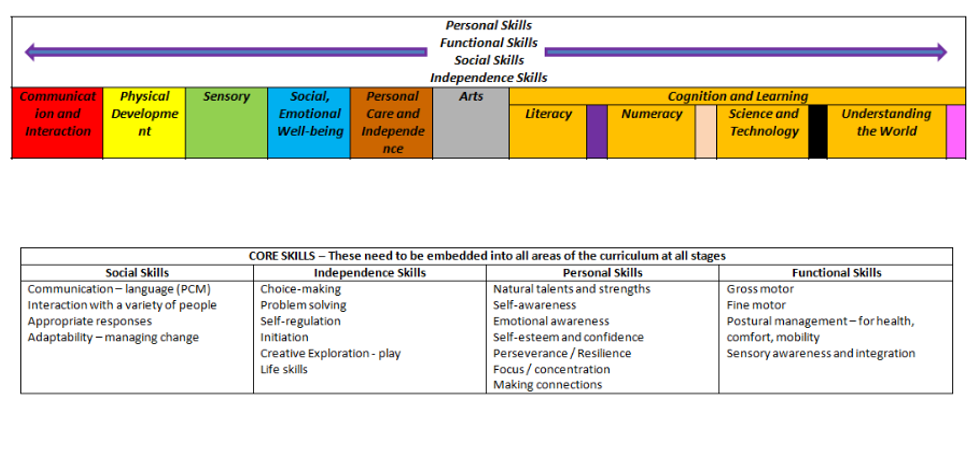 Our Curriculum Areas